Je T'Aime #52: Jean Paul Gaultier Vintage Sleeveless Poloneck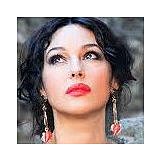 Once again, thank you so much for naming me the winner of the Karl Lagerfield gown challenge, NekoJapkat! Your choice was absolutely excellent & i had so much fun putting the look together.

I do not have enough time to send a personal invite to everyone, dear SS siblings, but please do feel free to participate if you wish to - the invite is open to all and nothing makes me more happy to see many of you participating in this challenge.

I cannot wait to see your amazing talents!