Garde-Robe: Laundry Day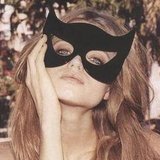 Congrats Binky on your win, I really liked your first date look and am glad you won because this week's challenge is pretty darn awesome!!

I think laundry day is the only chore that I don't actually hate (until you have to fold everything of course), probably because I can actually sit back and let the machine do all the work. Sure beats having to drag everything down to the stream and doing it all by hand ;) and it's definitely a good excuse to go casual and skip the makeup, as well as do some things I don't have time for during the rest of the week like writing and doing my nails.

Thanks for a great challenge, Binky! Loving this group!